GetRight
Home
StartDrive
---
[About] [Download] [Support] [Buy]
---
About:
StartDrive is a little tool I created for me to use, but then, that's how GetRight was born. I designed it to save me some time and steps opening directories on my computer.
StartDrive adds an item into your Start button menu and easily creates shortcuts to let you browse and open directories on your hard drive from the Start button.
The picture helps show what it does. In the example below, clicking the selected menu item will open the "C:\Program Files" directory on your computer.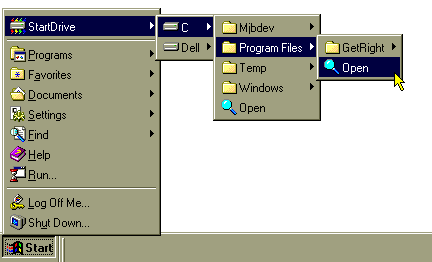 You can add as many or as few items as you want. Then when you want to open specific directories, you can quickly do it just from the Start button.
Review of StartDrive:

EPinions.com: 5 Star Review, by Joel M. Blackman
---
Download:
Sounds interesting and want to give it a try? Download version 1.0.5 here (494KB install program).
---
Buy:
StartDrive is free for you to try, but if you like it, please do purchase it.
Purchasing will get you a code number to remove the About window when it starts, and remove the banner advertisement.

Yes, I'll Buy It:
StartDrive costs $10 (US). Buy Now with your Credit Card!
Other ways to Buy:

Telephone orders:

Within the US: (888) 201-7131 (Toll free)
Outside the US: (661) 284-2681
Please only call these telephone numbers to order software. For technical support, please see the Support Pages