GetRight
Screenshots
GetRight® Play A Game Screens.
100% More Fun. Downloads can take a long time, so instead of just watching the progress bar move, we've added so you can play a game!

When you click the small Game button on the download window, you are given a menu to let you play a game in that download itself!

Picking that choice will resize the window to allow space for the games! Your download will continue as usual while you play.

With the other menu choices, you can visit the GetRight Arcade to download from hundreds of games, or select from games you can play online in your web browser. Or if needed, you can hide that button completely.
Picking a Game
After clicking the
Play a Game in This Window
, GetRight's download window will resize. You will get some tabs to let you select a game. Notice how you'll still be able to see the progress information and have the same control buttons for your download right at the top above the tabs.
We'll select the list of games from the GetRight Arcade. The games in the list will change over time, so there will always be new games. We plan to add some voting so you can help us choose the games! It will show right there on the games selector when voting is available.
Simply click the game you want to play.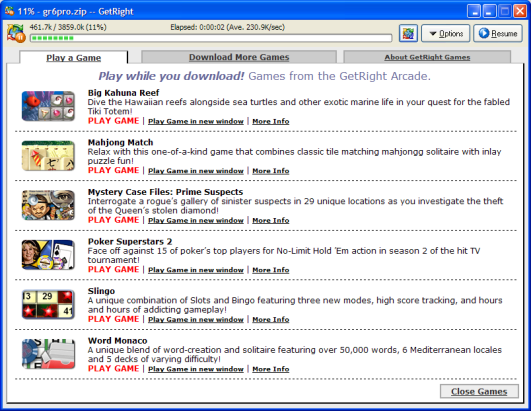 You can also play these games, or download hundreds of others, by visiting the
GetRight Arcade
.
Playing a Game
After clicking, your game will then start! At any time, you can click the
Menu
button to return to the main tabs above, to pick another game or anything else. (When picking Menu, your game will continue to run and there will be a new "Current Game" tab so you can easily switch back!)
Picking Quit & Menu will exit the current game and return to the main menu page.
Finally, clicking Close will close the whole game window and return GetRight to how it looked at the start!
When the games are active, this window will not close when your download finishes...so you can finish the level or the game. We've already appreciated that ourselves. The download is done, but I say "Let me just finish this level first." It really helps the time pass if you're waiting for a file to download.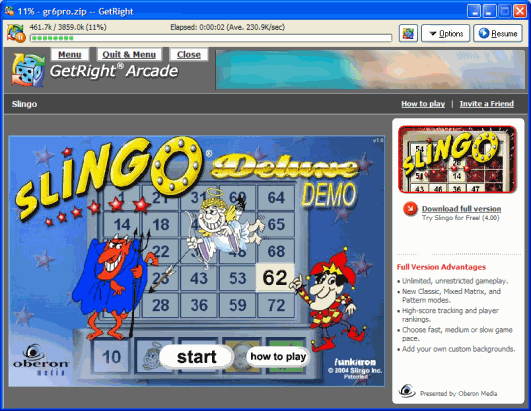 Next Steps...Buy GetRight or Try GetRight!
How The Games Work
How does this work?
GetRight opens a web page as that bottom part of the window, it uses an Internet Explorer control within the window to show the page. The page is loaded off getright.com, so we can add games or make improvements without you needing to download a new version of GetRight!
You can even click that to see how the games work--or even play a game--right now without even downloading GetRight. The games work exactly as they would if you played them directly in Internet Explorer--which you can do
right here
.